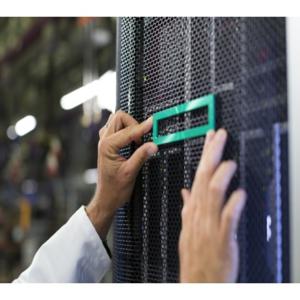 HPE Performance Optimized Data Center (POD) 20ce
A self-cooled, self-contained, mobile data center that can be deployed in as little as six weeks compared to the months or years for a traditional brick-and-mortar data center. Perfect for any company looking to reduce costs, overcome building capacity constraints, and adapt to changing business environment.
Get Started
Financing available through HPEFS
Offered by HPE Reseller
More Information
What's New
The Enterprise class 20' POD has a movable floor that allows better access to hot and cold aisles.
The 20ce is a 20 foot, 8 rack POD that allows frequent come-and-go traffic by not opening directly to the outside world.
Key Features
Reduce High, Upfront Capital Investments
Traditional data centers incur large, upfront capital investments due to high construction and maintenance costs.
Reduce Lengthy Deployment for Additional Capacity
Deploy a POD in weeks as opposed to months or years for traditional buildings.
Facilitate Standardization and Modularity
Deploy Additional Capacity on demand and enable industry-standard technology and equipment.
Movable Floor and Separate Entrance to Server Row
Allows for frequent come-and-go traffic, easy access for testing and changes.
Quick access to hot and/or cold aisle.
POD Doors don't open to the outside world, keeping servers protected.
* Prices may vary based on local reseller.
Find what you are looking for?
Need help locating the right product for your business?
Our product experts would love to chat with you to find products and services that enable opportunities and resolve your business problems.
Select country to get quote
Max 4 items can be added for comparison.