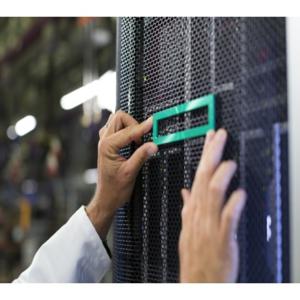 HPE B-series Fabric Vision Software
Are you looking for a solution to maximize uptime in your datacenter, address SAN issues before they impact operations and simplify SAN management ?

HPE B-series Fabric Vision Software for HPE B-series Switches and Directors provides unprecedented visibility and insight across the storage network and helps maximize uptime and simplify SAN management. Offering innovative diagnostic, monitoring, and management capabilities, Fabric Vision Software helps administrators address problems before they impact operations, accelerate new application deployments, and dramatically reduce operational costs
Get Started
Financing available through HPEFS
Offered by HPE Reseller
More Information
What's New
Monitoring and Alerting Policy Suite (MAPS): A policy-based monitoring tool that simplifies fabric-wide threshold configuration and monitoring.
Flow Vision: Comprehensive tool to identify, monitor, and analyze specific application data flows without using taps - includes flow performance monitoring, flow mirroring and flow generator.
ClearLink Diagnostic Ports: Ensures optical and signal integrity for Gen 5 (16 Gb) Fibre Channel optics and cables.
Health and Performance Dashboards: Integration with HPE SAN Network Advisor, providing all critical information in one screen.
Key Features
Enables Policy-based Monitoring that Simplifies Fabric-wide Threshold Configuration and Monitoring
Provides HPE B-series switch health reports along with details on out-of-policy conditions to help pinpoint potential issues before they occur.
Historical HPE B-series switch data is available to observe trends and determine if any action needs to be taken to prevent unplanned datacenter downtime.
Enables Users to Identify, Monitor and Analyze Application Data Flows without Using Taps
Enables non-disruptive monitoring of data flows and fabric latency to instantly determine which hosts and flows are affected by bottlenecks in order to optimize application performance.
Enables Host to LUN level traffic monitoring which represents an improvement over previous implementations that supported monitoring only at storage port level.
Offers a built in frame analyzer at each switch port which enables more powerful diagnostics and enables proactive monitoring and alerting.
Offers Advanced Link Diagnostics to Identify and Isolate Optic and Cable Problems Faster
Helps to detect faults in Fibre Channel SAN physical infrastructure pre-production.
Assists with troubleshooting of problems in production environments.
Enhances application performance and significantly reduces overall operational expenses for managing Fibre Channel SAN infrastructure.
Offers Consolidated Health and Performance Dashboards
One consolidated dashboard shows all critical issues and allows users to pinpoint problem areas making it convenient to use.
Integrated with HPE SAN Network Advisor allowing users to deploy a single tool for SAN management, monitoring, configurations and diagnostics.
* Prices may vary based on local reseller.
Find what you are looking for?
Need help locating the right product for your business?
Our product experts would love to chat with you to find products and services that enable opportunities and resolve your business problems.
Select country to get quote
Max 4 items can be added for comparison.