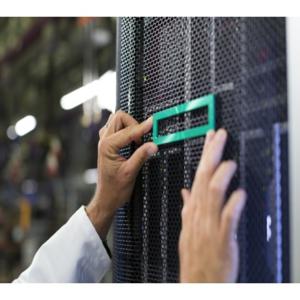 HPE Virtual Machine Explorer Software
Do you need a simple way to protect your small to medium business data? While small data centers can use a handful of virtual machines to save cost and ease management headaches, mid-size data centers can easily utilize one or two hundred to do the same. Unfortunately, neither usually has a large data center staff to manage their systems which makes complicated backup and restore solutions cumbersome. HPE Virtual Machine Explorer offers a straightforward and flexible backup solution for your infrastructure. If you want to get the most out of your backup software, including features such as instant virtual machine recovery, encrypted backups, multi-user interface, additional features for cloud backups (public and private) and a powerful backup/replication functionality, HPE VM Explorer Enterprise Edition is the right solution for you. If an efficient backup/replication solution is all that you need, HPE VM Explorer Professional Edition is the perfectly balanced choice.
Get Started
Financing available through HPEFS
Offered by HPE Reseller
More Information
What's New
HPE VM Explorer Bundles combine the software license with an initial maintenance contract to ensure that current updates and services are available to support your business needs.
Key Features
Centrally Managed, All-in-One Data Protection for Virtual Environments
HPE Virtual Machine Explorer is an all-in-one backup and replication solution supporting VMware® ESX and ESXi standalone servers, VMWare virtual datacenter, Microsoft® Hyper-V server as well as a Hyper-V Cluster on operating systems supported by ESX/ESXi and Hyper-V server.
Replicate virtual machines to another host (on-premises or on the cloud) with built-in point-in-time replication - the virtual machine is registered to the backup server automatically and can be started and accessed on-demand.
Change-tracking replicates any changes on the new target host keeping virtual environments synchronized and available for rapid disaster recovery.
Easy to Install and Operate
HPE Virtual Machine Explorer can be up and running minutes. The light-weight installer completes the installation quickly and easily and with just a few simple clicks and you can start running your backups and replications of your virtual machines within minutes.
An intuitive and easy to use Web-based interface that supports Active Directory integration and multi-user access.
The integrated job scheduler allows you to perform unattended, periodic backups of your virtual infrastructure. backup and restore jobs may also be started using the Web interface, which maintains a simple overview of your backups.
Comprehensive email reporting provides all relevant information about the backup jobs. These reports can also be viewed at through your backup history.
Fast and Efficient Backup and Recovery
HPE Virtual Machine Explorer copies files and backups at full speed directly between ESX, ESXi, Hyper-V, Linux® and FreeBSD servers. Throughput is limited only by the available network bandwidth and the disk speed of the source and target systems.
Dynamic compression and incremental backup and replication with Changed Block Tracking (CBT) makes the virtual machine backup and replication process fast and efficient. Dynamic compression of backups improves data transfer over slow network links and saves storage on the target system.
Instant Virtual Machine Recovery (IVMR) technology allows virtual machines to be recovered in a matter of seconds directly from backups, reducing unplanned downtime and improving service availability. Single-click restore moves virtual machines to production through vMotion.
Granular file-level recovery enables rapid restore of single files and folders directly from the backup. Choose from full as well as incremental back on-premises or on the cloud - without having to restoring the full backup.
Choice of Backup Targets with Automated Storage-tiering
HPE Virtual Machine Explorer backs up and replicates virtual machines directly to cloud targets including Amazon S3, Rackspace, and OpenStack® without an intermediary gateway. Native cloud integration enables cost-effective disaster recovery and single item recovery for your virtual environment.
Backups can be stored on a wide-variety of disk based options: direct attached storage (DAS), network attached storage (NAS), storage area network (SAN), ESX/vSphere®, Windows®, Linux and FreeBSD based storage platforms, and HPE StoreOnce Backup appliances (NAS and VTL).
Automated storage tiering enables seamless movement of backup sets between disk, tape, and cloud allowing you to efficiently and cost-effectively utilize different available storage tiers and meet varying RTO (Recovery Time Objective) needs.
Microsoft® is a registered trademark of Microsoft Corporation in the United States and other countries.
VMware® is a registered trademark of VMware, Inc. in the United States and/or other jurisdictions.
Hyper-V® is a registered trademark of Microsoft Corporation in the United States and other countries.
vSphere® is a registered trademark of VMware, Inc. in the United States and/or other jurisdictions.
* Prices may vary based on local reseller.
Find what you are looking for?
Need help locating the right product for your business?
Our product experts would love to chat with you to find products and services that enable opportunities and resolve your business problems.
Select country to get quote
Max 4 items can be added for comparison.