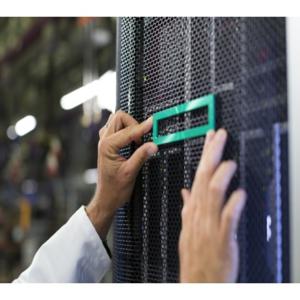 HPE Secure Manager Tape Library Software
The HPE Secure Manager for Tape Libraries software advanced feature option provides secure, device-level access, virtual library partitions, and configuration flexibility designed for SAN environments. As a component of HPE Command View for Tape Libraries (CV-TL), it provides centralized, web-based management for HPE ESL9000 and ESL E-Series enterprise class tape libraries, increases reliability and robustness of tape libraries in the SAN, and integrates with leading enterprise management applications.
Secure Manager for Tape Libraries allows system administrators to design reliability and security into backup SAN environments, providing backup security against extraneous SAN events and protecting host servers with the benefit of simplified SAN management. Virtual library partitions provide security between separated SAN environments.
Get Started
Financing available through HPEFS
Offered by HPE Reseller
More Information
What's New
Delivers complete remote manageability for ESL tape libraries in SANs. You can now configure, manage, and monitor all library components from any location, on a single screen.
Enhances reliability and interoperability of ESL tape libraries in SANs. The new Interface Manager card enables best-in-class interoperability in complex SANs, without requiring users to dig through expert-level details.
Automates setup and configuration of ESL tape libraries in SANs. Previously, each Fibre Channel (FC) interface controller needed to be set up separately. Automated configuration and a single point of control delivers simplicity in the face of complexity.
Increases speed and uptime with the server-less Direct Backup option. The Extended Tape Library Architecture goes beyond basic protocol-level support to deliver one-step configuration and a certified hardware/software solution.
Prevents unauthorized servers from interrupting critical backup jobs with Secure Manager ESL, delivering advanced device-level access control while being easier to use than ever.
* Prices may vary based on local reseller.
Find what you are looking for?
Need help locating the right product for your business?
Our product experts would love to chat with you to find products and services that enable opportunities and resolve your business problems.
Select country to get quote
Max 4 items can be added for comparison.