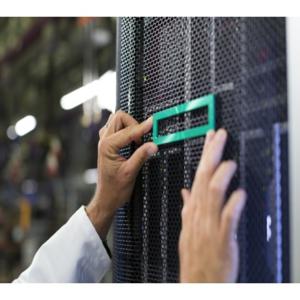 HPE SN1100Q 16Gb Host Bus Adapter
Looking for a high-bandwidth HBA solution to meet the requirements of increasing server virtualization and consolidation? Finding it difficult to realize the full bandwidth potential of your server running I/O intensive applications?

The HPE SN1100Q 16Gb Host Bus Adapters deliver twice the I/O performance of 8 Gb HBAs, it takes storage networking performance and efficiency to the next level. They enable rapid storage and retrieval of critical information when using high bandwidth cloud applications and storage intensive applications such as backup, database transactions and rich media. Designed for increased virtual machine density and bandwidth requirements, the SN1100Q 16Gb HBA products enable more applications and virtual machines to run on a single server and port, resulting in reduced cabling.

The SN1100Q 16Gb HBAs are backward compatible with 8 Gb and 4 Gb networks and will protect your current and future IT investments.
Select a Solution / Model
Existing selections will be lost. Click OK to proceed further.
More Information
What's New
Support for VM-ID and Buffer to Buffer Credit Recovery
Key Features
High-performance, Fibre Channel Host Bus Adapters
The HPE SN1100Q 16Gb Host Bus Adapters deliver twice the I/O performance of 8 Gb Fibre Channel (FC) HBAs.
Moving to 16 Gb technology provides the infrastructure required for the more powerful servers and data intensive applications in virtualized environments.
When using storage intensive applications like backup/restore, database transactions, virtualization and rich media, the improved I/O performance enables faster storage and retrieval of data.
Designed to support emerging Non-Volatile Memory Express (NVMe) over Fibre Channel storage network.
High Performance and Enhanced Capability For Critical Workloads and High SLA Environments
The HPE SN1100Q 16Gb Fibre Channel Host Bus Adapters supports for N_Port ID virtualization (NPIV) and industry standards-based Class-specific control (CS_CTL), provides end-to-end quality of service (QoS).
Delivers 16Gbps line rate per physical port, and increases the number of virtual machines (VMs) per each physical HBA Port that can be supported.
Advanced diagnostics capabilities when used in conjunction with HPE B-series FC switches can reduce troubleshooting and downtime with support for features like D-port diagnostics, Link Cable Beaconing (LCB), Read Diagnostic Parameters (RDP), enhanced FDMI, FC Ping and FC Trace Route.
Data center administrators do not need to concern themselves with multiple requests from the virtualized servers potentially creating conflict.
Improves host utilization and enhances application performance.
Additional Bandwidth
The HPE SN1100Q 16Gb Host Bus Adapters allow IT departments to do more with less: less hardware, less power, less cooling, less personnel, and less budget.
They optimize existing resources by deploying an effective adaptive server solutions.
Scale physical resources through consolidation and virtualization.
* Prices may vary based on local reseller.
Find what you are looking for?
Need help locating the right product for your business?
Our product experts would love to chat with you to find products and services that enable opportunities and resolve your business problems.
Select country to get quote
Max 4 items can be added for comparison.